Playing with toys is an important part of any child's development; especially when it comes to the development of sensory skills. At Beehive toys, we are proud to offer the perfect range of toys to aid in your child's sensory development, with all our toys uniquely made to educate and entertain.
What is sensory play?
Sensory play refers to any activity that stimulates the senses: touch, vision, taste, smell, and hearing. It is a valuable way of engaging children in activities that will enhance those senses, as well as their fine motor skills, helping them to learn and grow.
Why is it important?
Sensory play has many benefits when it comes to the development of the senses and fine motor skills for your child. Whilst your child is still developing it is important to encourage them to use all their senses. Sensory play specifically will allow your child to explore the environment in a new and exciting way. The use of toys provides an opportunity for children to experiment with different sensory experiences, helping them to grasp a better understanding of the world around them.
How can you incorporate it into your child's play?
There are many ways in which to incorporate sensory play into your child's daily schedule.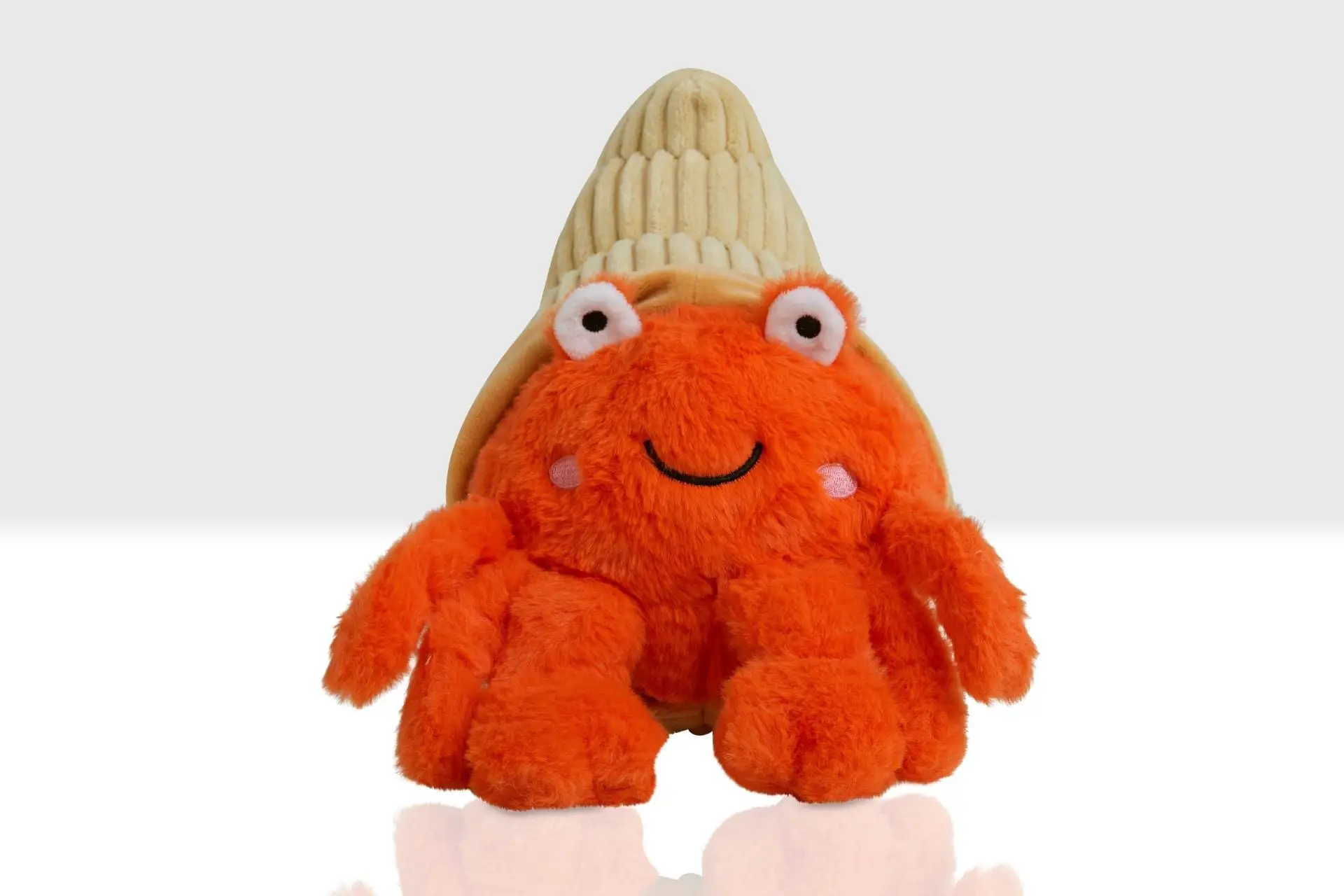 Exploring Vision and Touch
Our Hermit Crab Soft Toy is the perfect toy for your child to begin to develop their sensory skills right from birth. This soft cuddly crab is the ideal tactile companion to encourage the use of fine motor skills, through the identification of different textures on its face and shell. This cuddly crab has been designed perfectly to be just cute enough that your child will not be able to resist cuddle time, the action of squeezing aiding further in their motor skill development.
A Sense of Smell
One of the most highly developed senses that your child will have from birth, yet typically underused. When it comes to sensory play surrounding sense of smell, there are many activities to try that are easy to do using everyday items from home. A popular activity to introduce sense of smell to your child is the use of sensory smell bottles. This activity requires you to decant different spices, essential oils, coffee grounds and fruit amongst other scents each into an empty bottle and have your child try to identify each different smell and articulate how they feel about it. For example:  yummy, smelly, sweet, strong. As your child continues to grow, the addition of smell cards corresponding with the smell bottles will encourage your child to also use their visual senses through pairing the smell bottle with the correct smell card, containing an image of what is in the bottle. This activity specifically aiding your child in the development of their sense of smell.
Hearing and Touch
Our Wooden Lion Xylophone is the perfect toy to encourage musical awareness and boost your child's interest in music and sounds. It will offer them the opportunity to be creative and explore different sounds and pitches, as well as different rhythm and tempo. Additionally, this toy will help your child physically see and understand how their actions can affect their surroundings. This specifically helping to develop the senses, hearing, and touch.
Taste
Taste is highly linked with sense of smell and is in fact feedback from both smell and touch. A brilliant way to introduce different tastes and maximise sensory interest for your child is through different types of fruit. This activity will work best with a variety of different tasting, textured, sized, and shaped fruits. With this activity, it is important to offer your child the different fruits whole for them to see and feel, as well as in bitesize pieces for them to taste. The intention behind this activity is that it will encourage your child to talk about the taste, what type of fruit it is, what they like or dislike about it, and discuss where it has come from/grows. This will increase the brains connections associated with each fruit and its taste, specifically promoting the development of your child's sense of taste.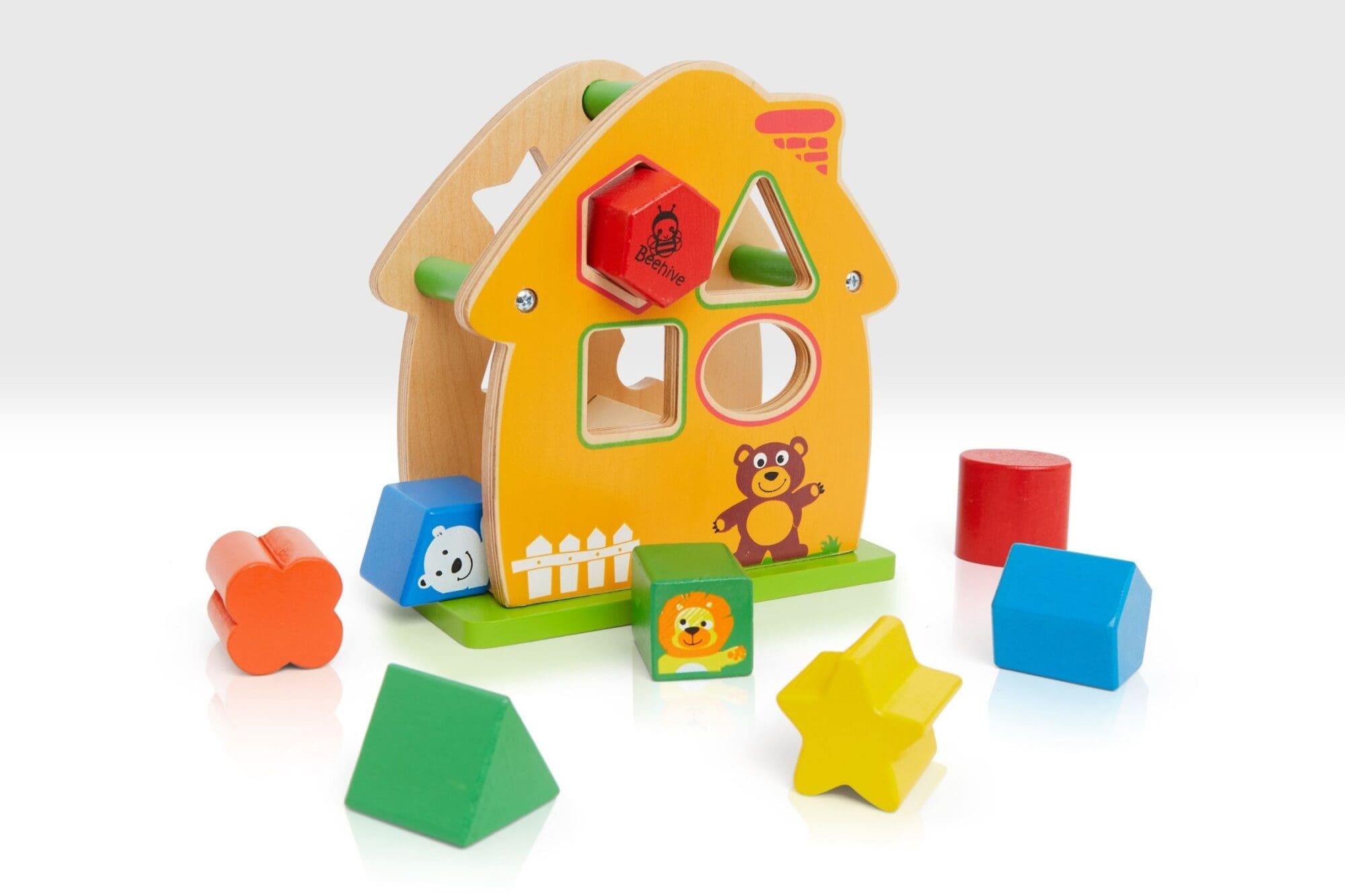 Vision
Our Shape Sorter House is the perfect toy to stimulate your child's brain. It helps to develop coordination skills and logical thinking, through the slotting of shapes into their correct holes, as well as encouraging their problem-solving skills. It will also support your child's vocabulary as they identify and name the different shaped and sized blocks, whilst trying to remember where they fit, enhancing their memory and observational skills.
This toy specifically aiding in the development of vision.
It is incredibly beneficial to encourage your child from an early age to develop their different senses. Sensory play is not only a proven and effective way to do this, but also a fun and engaging way to introduce the main senses to your child.
Take a look at our shop to view all our toys that will perfectly complement your child's sensory playtime: Beehive Toys